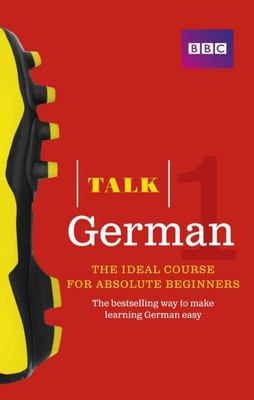 $29.99
NZD
$35.99
(16% off)
Category: Self-Study German | Series: Talk Ser.
'Talk German' has already inspired thousands of people to learn German from scratch and find the confidence to give it a go. Whether you're learning for business, travel or just for fun, its straightforward, step-by-step approach will ensure you're soon able to speak German in a range of everyday situat ions. With specially designed activities and clear, jargon-free grammar explanations you'll quickly develop your language skills and make genuine progress right from the start. ...Show more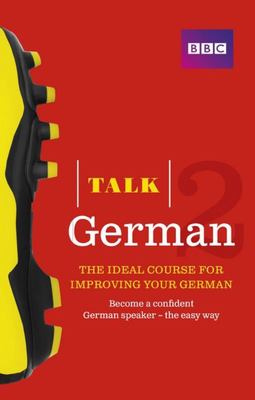 $30.99
NZD
$37.99
(18% off)
Category: Self-Study German | Series: Talk Ser.
Talk German 2 is the ideal way for you to improve your existing language skills, and take your language learning to the next level. Talk German 2 has already helped thousands of people to improve their German.Whether you're returning to the language and don't want to start from scratch or you've complet ed an introductory course, Talk German 2 is the ideal way to take your German to the next level - fast.With its clear and effective approach, you'll soon be able to engage in increasingly sophisticated conversations and express opinions on a wide range of subjects from food to property, as well as get to know people and cope confidently in everyday situations. Learn faster and smarter using the successful, proven Talk method. Develop your language skills with a wealth of activities to help you learn. Express yourself more confidently by taking part in real German conversations. Also included are 2 Audio CDs, 120 Minutes ...Show more
$25.00
NZD
Category: Self-Study German
An unmissable collection of eight unconventional and captivating short stories for young adult and adult intermediate learners of Italian.Olly's top-notch language-learning insights are right in line with the best of what we know from neuroscience and cognitive psychology about how to learn effectively. I love his work - and you will too! - Barbara Oakley, PhD, Author of New York Times bestseller A Mind for NumbersShort Stories in Italian for Intermediate Learners has been written specifically for students from a low-intermediate to intermediate level, designed to give a sense of achievement, and most importantly - enjoyment! Mapped to B1-B2 of the Common European Framework of Reference, these eight captivating stories will both entertain you, and give you a feeling of progress when reading.What does this book give you?· Eight stories in a variety of exciting genres, from science fiction and crime to history and thriller - making reading fun, while you learn a wide range of new vocabulary· Controlled language at your level to help you progress confidently· Realistic spoken dialogues to help you learn conversational expressions and improve your speaking ability· Beautiful illustrations accompanying each story, to set the scene and support your understanding· Accessible grammar so you learn new structures naturally, in a stress-free way· Pleasure! Research shows that if you're enjoying reading in a foreign language, you won't experience the usual feelings of frustration - 'It's too hard!' 'I don't understand!'With intriguing plots that will spark your imagination and keep you reading, Short Stories in Italian will take your grasp of Italian to the next level with key features to support and consolidate your progress, including:· A glossary for bolded words in each text· A bilingual word list· Full plot summary· Comprehension questions after each chapter. As a result, you will be able to focus on enjoying reading, delighting in your improved range of vocabulary and grasp of the language all without ever feeling overwhelmed. From science fiction to fantasy, to crime and thrillers, Short Stories in Italian for Intermediate Learners uses reading as the perfect tool to not only delight in learning Italian, but to accelerate your journey towards fluency. ...Show more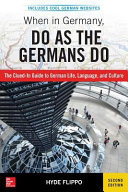 $28.00
NZD
Category: Self-Study German
Transform yourself from a typical tourist into a connoisseur of German culture! Do you want to travel to Deutschland without feeling like a Dummkopf! To blend in when visiting Berlin? To feel like you belong in Bavaria? When in Germany, Do as the Germans Do makes it simple to navigate the narrow stre ets of an Alpine village unnoticed or to go to a movie in Munich without turning heads. With this crash course in German customs and heritage, you'll avoid embarrassing blunders and enrich your travel experience. Packed with 120 articles, this handy collection of cultural dos and don'ts covers a broad range of topics, including food, art, pop culture, politics, business, entertainment, home life, history, and education. In these pages you'll find authoritative answers to questions such as: ●At a restaurant, should I find my own table or wait to be seated? ●What is a suitable topic for small talk with a stranger? ●What is the fastest train service in Germany? ●How many varieties of sausage are there? ●What is the unofficial division between north and south Germany called? ●How do Germans usually pay for online purchases? ●What is the main emergency number to call in Germany? With light-hearted quizzes, links to cool websites, this new edition of When in Germany, Do as the Germans Do has been fully updated to provide insights into all aspects of contemporary German culture, and will delight everyone from students and tourists to armchair travelers and trivia buffs. ...Show more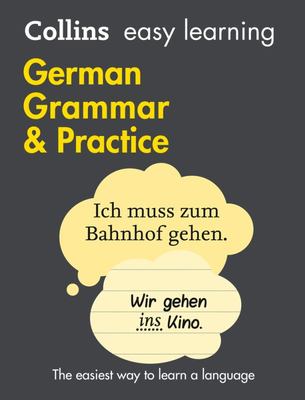 $29.99
NZD
Category: Self-Study German | Series: Collins Easy Learning German
Perfect for revising German Grammar offering a clear and easy-to-understand guide to the verbs and grammar of German with hundreds of practical exercises. Designed for all those learning German at school, at work or at home. It provides easily accessible information in an attractively presented layout. Key grammatical points and hundreds of exercises are highlighted throughout the text as a means of reinforcement. In addition, a full glossary gives clear explanations of grammatical terminology. Provides beginners with all the regular verb forms and conjugations, and the most common tenses of irregular verbs are shown in full. * Explains the essential points of German grammar using simple language throughout. * Hundreds of exercises help you to practise each grammar point. * Thousands of examples of real German illustrate clearly the grammatical points being made. * Clear layout ensures that you find the information you need quickly and easily. ...Show more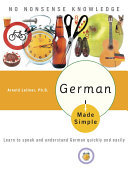 $35.00
NZD
Category: Self-Study German | Series: Made Simple Ser.
Learning German Has Never Been Easier Whether you are studying the language in school, planning a trip to Germany or Austria, or trying to learn the basics of the language closest to English, German Made Simple is the perfect book for any self-learner. Void of all nonessentials and refreshingly easy to understand, German Made Simple includes: - Basics of German grammar- Modern German vocabulary- German pronunciation guide- German reading exercises- German economic information- Common German expressions- Review exercises- Complete answer key- German-English dictionary ...Show more
$20.99
NZD
Category: Self-Study German | Series: Collins Easy Learning German | Reading Level: Teen - Grade 10-12, Age 15-18
This book offers beginners a clear and easy-to-understand guide to the verbs and grammar of German. Perfect for German exams revision. Collins Easy Learning German Grammar has been designed for all those learning German at school, at work or at home. It provides easily accessible information in an attra ctively presented layout, with new German spellings included throughout. Key grammatical points are highlighted as a means of reinforcement. In addition, a full glossary gives clear explanations of grammatical terminology. Collins Easy Learning German Grammar also provides beginners with all the regular verb forms and conjugations, and the most common tenses of irregular verbs are shown in full. An index contains thousands of verbs which are cross-referred to their conjugation model. * Collins Easy Learning German Grammar explains the essential points of German grammar using simple language throughout. * Hundreds of examples of real German illustrate clearly the grammatical points being made. * Clear, colour layout ensures that you find the information you need quickly and easily. Other titles available in the Collins Easy Learning German range are: Collins Easy Learning German Dictionary, Collins Easy Learning German Verbs and Collins Easy Learning German Words. ...Show more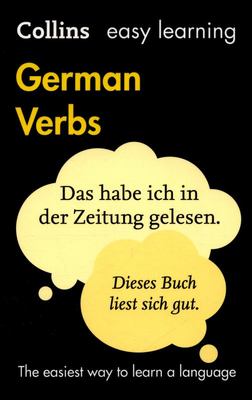 $22.99
NZD
Category: Self-Study German | Series: Collins Easy Learning German
Perfect for German revision offering beginners a clear and easy-to-understand guide to German verbs. The main section of the book consists of 200 fully conjugated verbs, regular and irregular, weak and strong. Each is self-contained in a full-page spread showing all the major tenses, clearly set out wit h pronouns. The tables also tell you if the verb is weak or strong and if it takes the auxiliary "haben" or "sein". New German spellings are included throughout. There is a special section on modal and auxiliary verbs, as well as an extensive introduction on the formation and use of tenses in German. A full alphabetical index of all the most widely used German verbs, cross-refers the user to its basic model in the verb tables. * Have confidence: shows all the major tenses of the most important verbs in German in full. * Get it right: Hundreds of examples of real German show exactly how each verb is actually used. * Get there fast: Clear, colour layout ensures that you find the information you need quickly and easily. ...Show more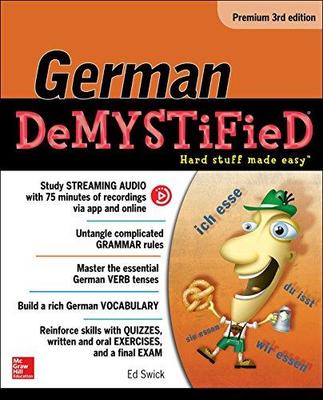 $48.00
NZD
Category: Self-Study German
Say auf wiedersehen to your fears of learning German with the updated premium edition of this fast, painless guide   The updated third edition of German DeMYSTiFieD provides you with the comprehensive, step-by-step educational experience that has made the DeMYSTiFieD language series such a success. T his established, unintimidating approach to speaking, reading, and writing a new language takes the mystery and menace out of the learning process, whether in class or at home.   Hundreds of quiz and test questions, chapter-opening objectives, and specific recommendations for difficult subtopics and individual weaknesses help you learn basic grammar structures and verb tenses, pronunciation, essential vocabulary, and how to communicate with confidence. In addition to DeMYSTiFieD's time-tested strategies, this edition features 75 minutes of streaming audio recordings and chapter review quizzes via the unique McGraw-Hill Education Language Lab app, so you can enhance your study via mobile or online, at home or on the go. ...Show more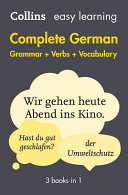 $32.99
NZD
Category: Self-Study German | Series: Collins Easy Learning German
The grammar section provides easily accessible information, with key grammatical points highlighted throughout, hundreds of examples of real German, and a full glossary of grammatical terminology. The verbs section offers 127 fully conjugated regular and irregular verbs. Major constructions and idiomati c phrases are given for all verb models. The handy vocabulary section covers 50 topics (such as family, free time, careers, computing, education, food and drink, health, and shopping). ...Show more
Items per page:
1 - 10 of 10