This is the latest version of the Tricolore series.
The sequence of editions for the Tricolore series is as follows:
Tricolore (1980)
Encore Tricolore (1992)
Encore Tricolore nouvelle edition (2000)
Tricolore Total (2008)
Tricolore 5th Edition (2014)
All editions are high quality. Please note that once we clear out our stock of the first four editions, we will no longer be ordering in these older editions.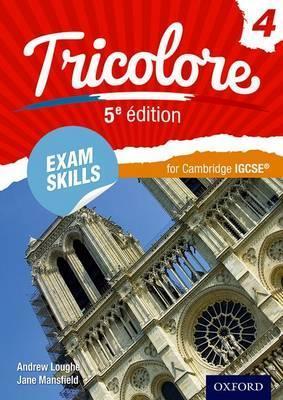 $45.00
NZD
Category: Tricolore 5th Edition (2014)
Fully prepare your Cambridge IGCSE French students with new Exam Skills Workbook, part of the bestselling and trusted Tricolore 4. Written by examiners and mapped to the latest Cambridge syllabus it is packed with target-language activities that develop all four key language skills, ensuring exam succes s. Closely following the thematic structure of the Tricolore 4, this new Workbook is packed with exam advice to ensure students avoid the mistakes most commonly seen by examiners. Ensure students are fully prepared for Cambridge IGCSE French assessment with two sets of Cambridge IGCSE- style practice papers, plus an audio CD containing all of the listening activities. ...Show more

$311.05
NZD
Category: Tricolore 5th Edition (2014)
Tricolore 5th edition provides stimulating, up-to-date content with tailored resources to inspire and stretch high-achieving students. Closely aligned to the 2014 Programme of Study, this course teaches essential skills while developing independent learning and creativity. The course also places an emph asis on getting students prepared for GCSE and beyond. Take a look and see how it supports grammar skills, reading and translations of authentic texts, and spontaneous speaking. This new edition now includes: - Detailed, progressive grammar and skills coverage, plus a focus on sound-spelling links to support pronunciation, spelling and transcription - On-the-page extension activities to support students with prior knowledge of French or those in need of an extra challenge - End-of-unit summaries and unit assessment in all four skills Tricolore has a full suite of resources to support your needs: the Student Book, Teacher Books, Workbooks, Audio CDs and next generation Kerboodle. ...Show more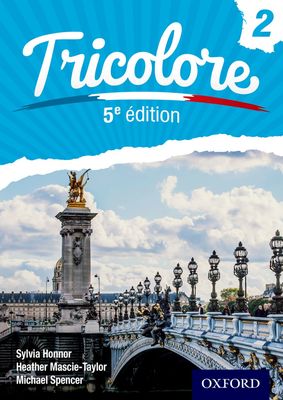 $38.10
NZD
Category: Tricolore 5th Edition (2014)
New edition of the best-selling high ability French course. Features: Stimulating, up-to-date content with tailored resources to inspire your highest achieving students  Helps to support and develop independent learning and creativity  Detailed support for grammar, pronunciation and language-learn ing skills  End-of-unit summaries and unit assessment in all four skills  Vocabulary and grammar reference sections encouraging independent learning  Extension activities to stretch those with prior experience of French, or those in need of an extra challenge ...Show more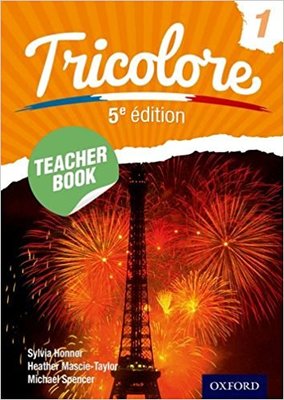 $142.99
NZD
Category: Tricolore 5th Edition (2014)
New 5th edition of the best-selling high ability French course for students.   Features: Helps you to support your students and ensure they are fully prepared for the next stage of language learning Innovative ideas for starters, plenaries, self-study and homework Plenty of material to save you t ime, including: overview, lesson suggestions, activities, games and songs Guidance on cross-curricular links, developing language-learning skills, differentiation and assessment Contains all the notes, answers and transcripts you need ...Show more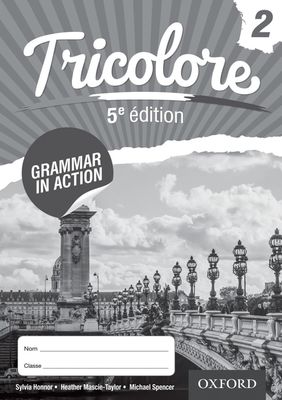 $77.35
NZD
Category: Tricolore 5th Edition (2014)
New edition of the best-selling high ability course. Grammar in Action Workbook Pack 2 (Pack of 8). Tricolore 5th edition provides stimulating, up-to-date content with tailored resources to inspire and stretch your highest-achieving students. This updated course teaches essential language skills while developing independent learning and creativity. Features: Grammar explanations on the page so students can do the tasks on their own Grammar activities reinforce and embed the grammar covered in the Student Book   Grammar notes for easy reference matched to the Student Book Ideal for Homework and other practice ...Show more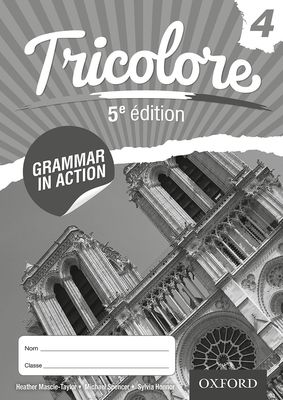 $93.70
NZD
Category: Tricolore 5th Edition (2014)
This new edition of the best-selling and trusted Tricolore 4, is written by the highly experienced Tricolore team to give you materials that really work. It is suitable for all exam boards, with specific specification support on Kerboodle for AQA, Edexcel, Eduqas and OCR. It offers a smooth transition f rom KS3, whilst providing topic coverage to ensure seamless progression towards AS and A Level, providing assessment and exam-practice to ensure students are ready for the increased demands of the new linear course. As with the other books in the series, there is a systematic approach to language and grammar with clear progression leading towards the cumulative exam. The series includes: Student Book, Teacher Book, Grammar in Action Workbook, Copymasters and Assessment, Audio CD, Kerboodle. This is an 8 pack.  ...Show more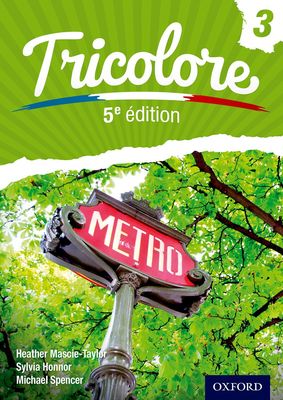 $38.10
NZD
Category: Tricolore 5th Edition (2014)
New edition of the best-selling high ability French course. Suitable for Year 9.  Features: Tried and trusted, the only course written solely for high ability students  Detailed, progressive grammar and skills coverage  Fully integrated next generation Kerboodle  End-of-unit summaries and unit as sessment in all four skills  Excellent preparation for Year 10 Extensive support for independent learning (extended reading, free choice activities, grammar and vocabulary reference sections) The Student Book is packed with stimulating materials and activities to develop skills in listening, reading, speaking and writing. Grammar progression is detailed and rigorous, ensuring learners acquire the tools they need to become confident linguists. Combining a tried and trusted methodology with fresh new content, Tricolore 5e édition teaches essential language skills while developing independent learning. Tricolore 5e contains everything you need to take your students to the next stage of language learning. ...Show more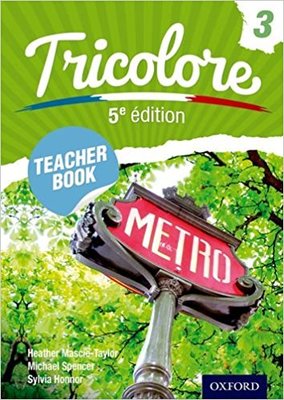 $129.65
NZD
Category: Tricolore 5th Edition (2014)
New 5th edition of the best-selling high ability course for French students, fully supported by Kerboodle. Features: Helps you to support your students and ensure they are fully prepared for the next stage of language learning Innovative ideas for starters, plenaries. self-study and homework Plent y of material to save you time, including: overview, lesson suggestions, activities, games and songs Guidance on cross-curricular links, developing language-learning skills, differentiation and assessment Contains all the notes, answers and transcripts you need ...Show more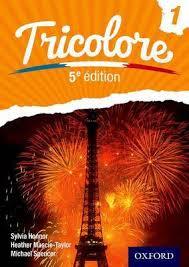 $54.99
NZD
Category: Tricolore 5th Edition (2014)
New 5th edition of the best-selling high ability French course. Features: Stimulating, up-to-date content with tailored resources to inspire your highest achieving students  Helps to support and develop independent learning and creativity  Detailed support for grammar, pronunciation and language-l earning skills  End-of-unit summaries and unit assessment in all four skills  Vocabulary and grammar reference sections encouraging independent learning  Extension activities to stretch those with prior experience of French, or those in need of an extra challenge ...Show more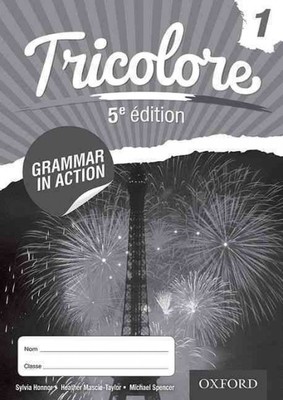 $82.99
NZD
Category: Tricolore 5th Edition (2014)
New edition of the best-selling high ability course. Workbook Pack (of 8). Tricolore 5th edition provides stimulating, up-to-date content with tailored resources to inspire and stretch your highest-achieving students. This updated course teaches essential language skills while developing independent le arning and creativity. Features: Grammar explanations on the page so students can do the tasks on their own Grammar activities reinforce and embed the grammar covered in the Student Book Grammar notes for easy reference matched to the student book Ideal for Homework and other practice ...Show more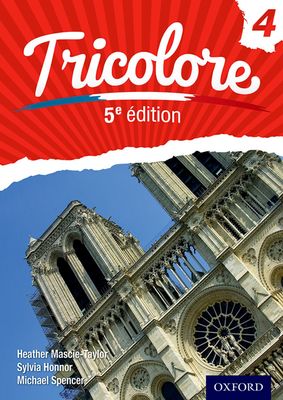 Tricolore Student Book 4 (5e edition)
by Author Heather Mascie-Taylor , UK Author Michael Spencer , UK Author Sylvia Honnor , UK
$52.30
NZD
Category: Tricolore 5th Edition (2014)
This new edition of the best-selling and trusted Tricolore 4, is written by the highly experienced Tricolore team to give you materials that really work. It is suitable for all exam boards, with specific specification support on Kerboodle for AQA, Edexcel, Eduqas and OCR. It offers a smooth transition f rom KS3, whilst providing topic coverage to ensure seamless progression towards AS and A Level, providing assessment and exam-practice to ensure students are ready for the increased demands of the new linear course. As with the other books in the series, there is a systematic approach to language and grammar with clear progression leading towards the cumulative exam. The series includes: Student Book, Teacher Book, Grammar in Action Workbook, Copymasters and Assessment, Audio CD, Kerboodle. ...Show more